Mobile Home Under Belly Repair Tape by Flex-Mend
Use mobile home underbelly repair tape to permanently repair ripped or damaged polyethylene belly material. Note: Polyethylene underbelly is a black tarp-like material. This material is found on the bottom of most manufactured homes built since the 80's. If your underbelly covering is more rigid like a board, then click here for a tape to patch it.
Flex-Mend™
Very few tapes will stick to the underneath material of a mobile home, much less stick permanently. For sure duct tape doesn't work. If you are tired of taping and retaping the rips and tears in your home's belly, you'll appreciate Flex-Mend™ tape.
Flex-Mend™ is a revolutionary new mending product that matches the appearance and texture of bottom closure materials used by most manufacturers in the mobile home industry today. Flex-Mend™ is a woven polyethylene film currently meeting all requirements (except as noted below) for use as bottom board by the mobile home industry. It has been solid-coated with specially-formulated high-tech adhesive, and has an easily removed paper release liner. It goes on like a band-aid.
When placed over holes and tears, the entire Flex-Mend™ patch bonds tightly to the bottom closure material PERMANENTLY. Immediately following application, flex-mend patches are almost impossible to remove without destroying the patch and/or the surface to which it is bonded. During the next few hours, adhesion becomes stronger and stronger.
Repair holes, cuts and tears resulting from plumbing repairs, weak seams and damage by cats and other animals quickly, neatly and permanently. Flex-Mend™ is also waterproof and unaffected by cold and can be applied in below-freezing temperatures (see instructions) and will hold regardless of the season.
Note: This tape does not work effectively on the older bottom boards that resemble a solid board-like material. Click Here for a material to repair older bottom board. For bellies too far gone to repair, replacement polyethylene underbelly material can be ordered here.
INSTALLATION
Step 1: Clean the area around the rip. Cut and stuff a little extra fiberglass insulation in the cut.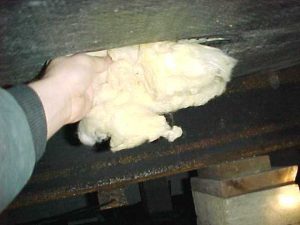 Step 2: Cut a strip of Flex-Mend™ slightly longer than the opening. Remove the release paper from the back and apply. Be sure the tape does not stick to itself. More than one piece of tape may be needed to properly seal the opening.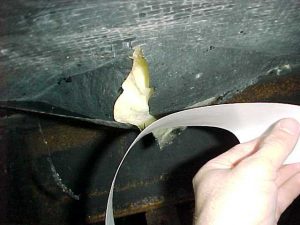 Step 3: Using a blow dryer, heat gun or the bulb from a work light, apply heat to the tape and rub. Do not overheat.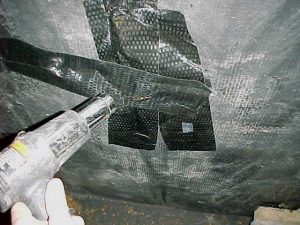 The following sizes of flex-mend are available:
4″ x 25′ roll
4″ x 50′ roll
4″ x 180′ roll
28″ x 25′ roll
Originally posted by Mobile Home Repair